Like food, color is essential to health and wellbeing on many levels. There is scientific proof that colors influence the mind and have legitimate psychological impact on our lives, but very few people realize how just how much color can impact their lives.
You can eat food that agrees with and supports your body to achieve peak health. You can also wear colors that enhance your radiant health and express the "essence" of who you are. I invite you to tap into the power of color in your personal dress and lifestyle expression.
I remember when I first had my colors done. Back in the early 80s, I had interviewed Suzanne Caygill, the originator of the Color Harmony theory, for my California radio show; I figured I would see what all the buzz was about after hearing rave reviews of life changing stories from her clients. When Suzanne did my colors, she exclaimed, "This is Julie Andrews' chart! Why aren't you singing my dear?" I nearly fell off my chair as singing and musical theater were part of my "earlier" life, when I taught music and actually won an award as a "Julie Andrews" newcomer.
Needless to say, I was hooked and decided to explore the deeper meaning of color.
As a floral Spring, I lightened up from my New England/preppy style. I changed my office decor, my personal clothing, and my makeup. That first year, my nutritional consulting business increased by 300 percent, which I attributed to being "in sync" with my authentic self.
Years later, I met up with Jennifer Butler, the current color guru who took Suzanne's work to a whole new level.  I saw her a year ago to update my color palette and style. I knew Jennifer had written her own book and I was excited to see how she had elevated Suzanne's work to make it more fitting to our day and times.
And so, in honor of the New Year/New You theme, I want to introduce you to Jennifer's work in hopes that it will bring you the kind of joy and personal satisfaction that "showing up in your true colors" can bring.
Here is what Jennifer Butler has to say:
As children we learn to color by number. We learn to like the Crayola colors that we used in our coloring books and we're attracted to people and things we love. Similar to the way we learned to eat the foods from any number of TV dinners, fast food joints, and vending machines. That's what was offered and how we created our color and eating habits.
I thought I knew what I liked and I dressed in what attracted me. It's common to dress unconsciously in the colors of the people we love. I used to wear my mother's pink, and was under the mistaken belief that it looked better on me. But I learned that my skin is actually peach. Wearing my real skin tone helps me create intimacy and fellowship.
In younger years I saw my hair as dark brown, a color I wore continually. In fact my hair was black-brown, and I look much better in black. So my hair color, which creates foundation and balance, was completely missing.
Then, there was my eye color. I thought my eyes were brown, when actually if you look in the daylight, they are a beautiful amber. In appreciation of my father, I dressed in his olive eye color instead of my amber. So all the pink, brown and olive clothing I wore had nothing to do with me and I disappeared.
So many of us feel we have a closet full of clothes and nothing to wear.
Mother Nature provides a beauty blueprint to each of us birth. And it's our opportunity to create an outer expression that honors our inner being. Each of us is born with a "sacred triad," which creates the foundation of who we are.  It is the sacred balance between your hair, skin and eyes.  When one of the three is distorted in anyway it throws the balance off.  Just like the body chemistry can be thrown, when "off" foods are part of our nutrition program.
This conversation is an invitation to consider color and design as a powerful ally for creating the healthy, balanced life you want to have.
The Secret Power of Color and Design works on three levels:
First, the Soul/Essence,
Second, the Mind/Psychology of Color,
Third, the Sacred Geometry of the Body
You may have heard a discussion of the "Four Seasons", popularized in the early 1980s by Carol Jackson in her book Color Me Beautiful. The Four Seasons are actually a key to understanding the inner self.  Each season has an inner light and higher purpose that honors the cycle of life that we all recognize.
All of humanity experiences the creation of life in Spring, the sustaining of life in Summer, the harvest of life in Autumn, and the completion of life in Winter.
This process is tied into an inner radiance that we recognize as our life force. That life force is stronger when we are nutritionally balanced, and it is increased when we are conscious of our season and when we dress in our own true colors.  By understanding our essence we create an inner and outer alignment.
Also, when we are aware of our essence we discover the bigger story of our life.
Springs emanate the energy of sunlight. They radiate joy and playfulness. They are light-hearted, engaging, welcoming, in the moment, and remind us that tomorrow is a new day.
Summers evoke the energy of the twilight. Their gift is to allow the earth (and people) to live in a state of grace. They take time to appreciate the process of life and the beauty of pausing to appreciate the moment. They are kind, considerate, gracious, and thoughtful.
Autumns radiate firelight. They are all about results and harvest. An Autumn will get the job done and is motivated by purpose. They are generous, abundant, loyal, grounded, strong leaders, expansive and compelling.
Winters reflect the moonlight. They are able to hold a higher vision and connect spiritually to the world around them with ease.  They can hold extreme points of view or ways of being, and have black and white discernment. They strive for perfection and appreciate mastery.
Learning what the colors mean and understanding how to dress with intention creates a whole new language for communicating. How you dress can be a celebration of who you are. And dressing as our true selves empowers us to "show up" and present our self authentically. In a warp speed world, which is so much more visual than back in the day, our visual presentation is key.
When we dress in our colors and sacred geometry we create a strong visual impact, own our full power and express our authenticity. In a time when there are so many pressures to change ourselves to achieve someone else's ideal – it is a gift to recognize we are born perfect with our own inner light and unique physical design. We are Mother Nature's work of art. Knowing your color harmonies and your sacred geometry allows you to focus on all the positive aspects of yourself.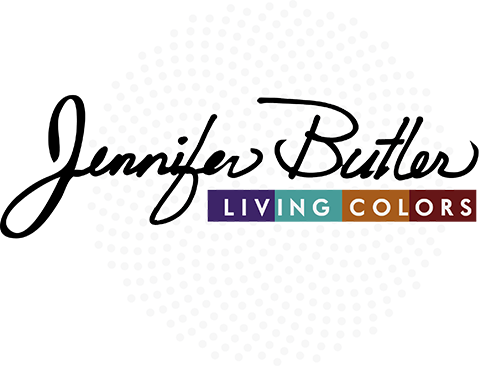 Following your unique design traits, color, style and proportion are visually appealing and create confidence and continuity. The sacred geometry of the body provides all the answers to how to dress effectively.
I never knew that the shape of my face determines the style of my neckline. And my facial features determine the shapes of my jewelry. I used to wonder "what is the best handbag for me?" "What shape should my eyeglasses be?"
Each season has an impulse that reflects on how a person can dress their essence. For Springs we always ask: Is the outfit joyful? Playful? Youthful? Does it express a sense of humor?
For Summers: Is the outfit feminine, flowing, graceful or romantic? Or is it gentlemanly, refined, genteel, and sophisticated?
For Autumns: Is the outfit expressing their complexity and abundance by incorporating textures, metallic, fringes, layers, topstitching and representations of momentum?
For Winters: Is the outfit dramatic with enough contrast – think of the leafless tree silhouetted against the snow, or the stars in the night sky.  Is it architectural and unique, urbane and of the highest quality
Now is your chance to learn what clothing colors and designs enhance your physical and mental wellbeing. Watch this FREE one hour class from my trusted resource. From there, you have the option to Tap Into the Secret Power of Your Colors and Design at a special discounted price. To take advantage of this special offer, use the code ANNLOUISE. To learn more about Jennifer's work, I would love for you to check out her website at jenniferbutlercolor.com.